No. 42P303
SCAPE
Taiga Candle
$36.00
Inspired by the taiga landscape. Insanely thoughtful scent notes of Conifer, White Spruce, Hemlock and Moss. Can also be used as a beautiful holiday scent.
Product Specs
8 Ounces
100% American Grown Soy Wax
Over 45 hours of burn time
Vessel features a straight glass design with a torn label created to mimic a taiga forest landscape. This label is a double layered - dark racing green on the top to mimic the mountains with the bark and brush brown on the bottom to mimic the earth, this layering effect creates a copious amount of texture and depth. Due to the handmade process behind this label, we ask that you keep in mind that each candle label will be slightly different with no two exactly 100% alike. Finished off with a foiled lid topper.
Policies
We ship orders every 2-3 business days. Once we ship your order, you'll receive tracking information that you can then use to keep track of your products while they are in route to you. We put so much work into the quality and craftsmanship of our products. If for whatever reason you are unhappy with your purchase, please return your product to us within 15 days of your purchase for a full refund (with the exception of shipping costs). Damaged, opened or used products cannot be returned. Still have questions? Get in touch with us at info@42pressed.com or check out our policies.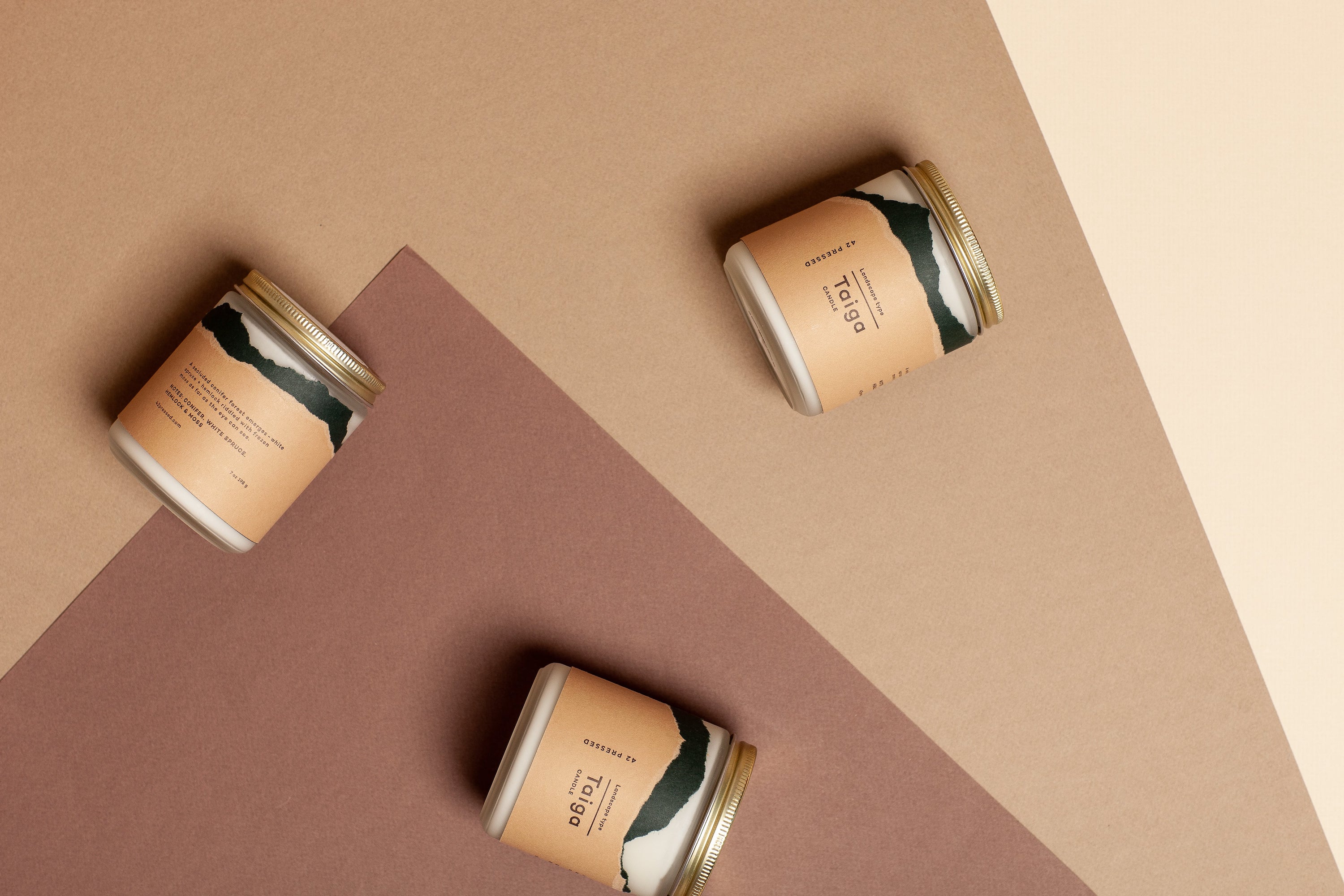 SCAPE
Taiga Candle
A secluded conifer forest emerges - white spruce + hemlock riddled with frozen moss.
Our Scape Collection: is a landscape study that evolved into a line of home goods using deliberately ripped, shaped or cut paper designed to mimic specific landscape horizons that have become expressions of our own regional identities.